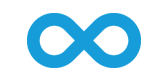 FREE UK & UK Mobile Calls
Included with our 3CX Hosting bundles are free UK and UK Mobile calls as standard – allowing easy call budgeting based purely on the number of lines (SIP channels) you need. Or if you prefer, PAYG SIP channels also available (good for outgoing call centres)

Hosted on our super-resilient cloud platform, your cloud-based 3CX PBX VoIP System will be reliable, always available and fast – whether you're working from the office, on your mobile, at home, or internationally. What's even better is that our hosted 3CX VoIP System are at least 10% cheaper than others providers.

Fully Managed 3CX Hosting
Our expert 3CX-trained engineers manage and configure your cloud PBX for you to your exact requirements if required: setting up IVRs, queues, hunt groups, opening times etc – as well as taking care of upgrades and security for your 3CX server.

Say goodbye to per-seat charges for each handset or staff member. 3CX is unique in that the licences, starting at just £24.91/mo for 4 lines (about 4-16 staff), are based on the number of concurrent calls and SIP trunks you have – making 3CX often the cheapest and most economical PBX cloud system without sacrificing features.

3CX Web Client for every user
As well as using the web to make and take calls from their computer/mobile, each user also gets their own web portal to easily manage their extension – like easy switching of their "presence" (Available, Away, DND, Lunch etc). It's intuitive and easy to use, so there's no expensive on-site training required – and we're always here to help.
Benefits of WebMate 3CX Hosting

Fully configured, setup and managed

Monthly or Annual payment options

Unlimited UK calls or PAYG

Full root access to your Cloud VPS server (if required)

Award-winning support and help

Great value compared to 3CX's own hosting or other providers
3CX VoIP PBX – the world's most advanced, multi-award-winning business VoIP phone system
Here you can configure your 3CX hosted phone system without bounds. See a summary of the system status or drill down for custom reports, logs and notifications. Remotely configure and update your SIP handsets too.
Each VoIP user has their own login where they can setup web meetings or video calls/conferences, set their presence and interact with queues and hunt groups – including recording, whisper and listen in.
Download the mobile App for each user and take the extension on the road without customers realising. It's auto-configured from a QR-code, so no fiddly configs to worry about.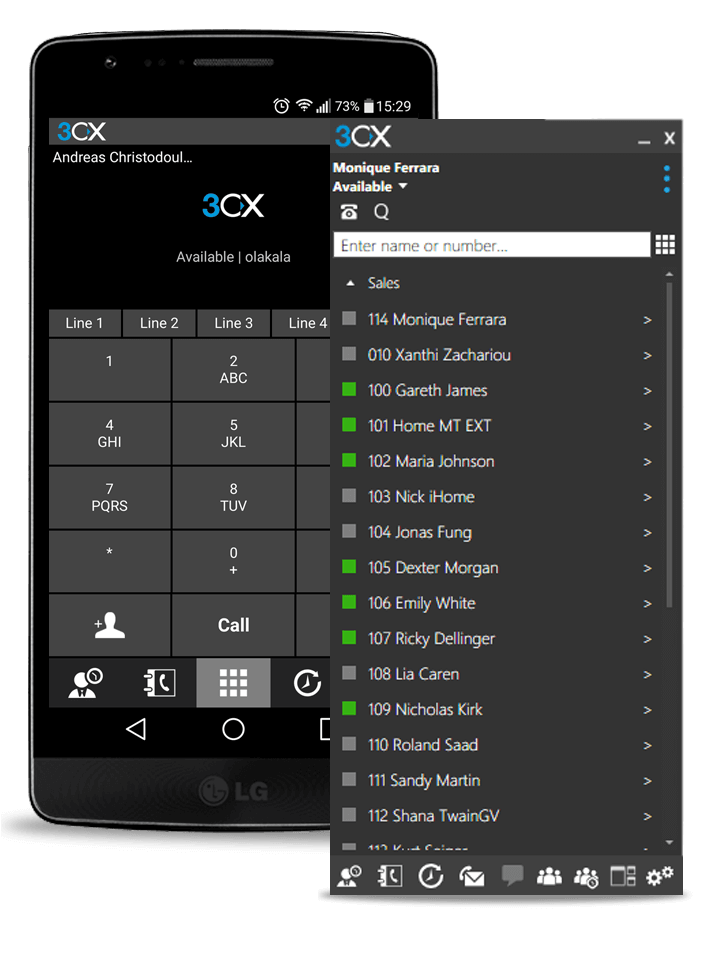 Video Conferencing  / Web Meetings
Hold face to face meetings at the click of a button with 3CX's web-meeting feature. It's WebRTC based, so works in any browser without any software to install. Extremely easy-to-use, transforming the way you communicate and collaborate within your company and with customers. Features include screen sharing, presentation, text chat, annotating and in-line voting.
Digital Receptionist (IVR Menu)
A highly customisable auto-attendant system allowing multiple auto-attendants for different times or to run in series to direct the call to the right person. Upload your own voice prompts and set routing based on caller-input.
Unlimited UK and Mobile Calls
Whilst Business VoIP systems have always been great for bringing initial PBX setup costs down significantly, they've never delivered on addressing the monthly call charges, until now. Budgeting is easier and you'll see massive reductions in your monthly phone call costs – especially with our SIP trunks with unlimited UK and Mobile calls included.
Easy-To-Use And Configure
The web-based admin interface allows easy creation of extensions and routing plans as well as full statistics and reporting of calls. Each user also has their own web client where, as well as making calls and video conference, can manage their own extension settings, presence, call queue monitoring, shared contacts, schedule conference calls and much more….
Why choose a cloud-hosted 3CX Business VoIP PBX system from WebMate?
Hosted VoIP has a much lower setup cost over traditional hardware-based PBX systems

Convenient for remote workers and multiple branch locations

Our hosted VoIP has Free UK and UK Mobile calls

Lower international call charges
Flexible changes to configurations quick and easy to implement inhouse

Quick to setup – within a few hours usually compared to weeks for a landline

Portability – easy to move offices without taking the old hardware PBX system
Lowest Cost 3CX Hosting: Build your own Business VoIP system
Build the perfect Business VoIP system for your business and upgrade and adjust when you need to. We've created some popular example bundles below, or you can go straight ahead and build your own. Get in touch if you'd like advice on the best configuration for you.
Building the 3CX system comprises of three components: SIP trunks – with included UK and UK mobile calls; 3CX licence – this depends on the number of lines you need; and the size of the Hosting Server – this again depends on the number of users/lines you need. Then we'll work with you on any numbers that need porting, any new numbers you need, how you'd like it all configured and any handsets you need. If you already have a 3CX licence or instance to migrate, you can pick and choose the services you need from us, choose for us to configure and manage the PBX for you, or do this yourself if you prefer.
Hosting your PBX with WebMate is typically 50% lower cost than with 3CX's own hosting – and you get daily backups and a fully managed system on a much better, self-healing global network.

BUSINESS VOIP SOLO
(single line)
BUSINESS VOIP SOLO
(single line)
For small business who only require 1 line. A Lite version of 3CX with Voicemail, Mobile – but no IVR. queues etc.
From £7.50 per month

Complete Business VoIP cloud system. Configured & Managed with UK & Mobile calls included for lowest costs and budgeting.
From £24.70 per month
Perfect low-cost solution for small businesses, with licence, hosting and SIP trunks all in one easy plan. Available with easy-monthly payments.
From £17.90 per month
Suitable for
UK Calls
UK Mobile Calls*
International Rates 
For 1 or 2 staff
FREE
FREE
from 2ppm
For 1 to 128+ staff
FREE
FREE
from 2ppm

From £24.08/month
£28.90 monthly or £289 annually
Or configure the system yourself using the button above. If you need help and advice on building the right system, please contact us
For 1 to 20 staff
FREE
FREE
from 2ppm

Or configure the system yourself using the button above. If you need help and advice on building the right system, please contact us
BUSINESS VOIP SOLO
(single line)
For small business who only require 1 line. A lite version of 3CX which includes Voicemail, Mobile – but no IVR. queues etc.
from £7.50 /month
Which 3CX Hosting Licence should you choose?
Generally chosen for the call queues, larger web-meetings and/or CRM support:
Video Conferencing (100 participants)

Microsoft 365 Integration
Request a custom 3CX Hosting VoIP quote or ask a question….
FAQs – Business VoIP & 3CX Hosting PBX
What's the minimum term for the 3CX Hosting Systems/Bundles?
The minimum term is 12 months, then a 30 day rolling contract. Payment can be monthly or annually (about 10% saving on annual plans). 3CX licencing beyond the free-tier is 12 monthly.
Where is the 3CX platform hosted?
We host and manage your 3CX PBX Server on our redundant AWS platform in London, UK. Each instance gets it's own dedicated VPS. This allows us great flexibility and resilience as well as the best speeds to connect to 3CX and our PSTN and SIP networks.
Are backups included of the 3CX Server?
Yes, part of our AWS network includes regular server image snapshots and we configure the 3CX PBX Server to backup settings regularly as well (these are backed up outside of the AWS platform for extra protection)
Can I test 3CX out before I commit?
Yes, we have a demo 3CX server setup for you to test for a few days, subject to availability. Contact us and we'll setup access for you.
How many SIP channels do I need?
This depends on your volume of outgoing call volumes. A general rule would be 4 people per channel (line). If you have support or sales staff always on the phone, they might need a dedicated SIP channel just for each user. So depending on how your business uses your phones, between 1 and 6 SIP Channels/Lines per user. Internal calls also count as used "channels" as well, so remember to allow as few spare channels for internals. We'd be happy to help you decide the best setup for you.
Can you provide and configure sip desktop phones?
Yes, we have our popular and recommended VOIP hansdets availble to order, but can get hold of any make or model – and check it's compatibility with 3CX – contact us for advice and prices. We preconfigure all handsets ready for you to plug in and go, with 12 month next-day swappout warranty.
Can you take over and existing hosted 3CX I have elsewhere?
Yes, we can migrate your existing settings to our hosted 3CX PBX service as well as porting numbers etc for minimal downtime – contact us for details.
How long does it take to get my hosted 3CX SIP system ready?
Setting up the servers is usually 24-48 hours, then it's just getting the configuration to exactly how you want it. If you have numbers to port in, that can take 21 days, so usually allow 3-4 weeks for a full transfer. We'll liaise with you for a "switchover" or "switch on" date and time so as to avoid any downtime.
Can I transfer my existing 3CX licence?
Yes, if you already have a valid licence we can setup just the hosting and management part until your licence needs renewing. We can then transfer the licence over to our control and bill you either monthly or annually. We're often much cheaper than other providers for annual licences – contact us for details.
Can I organise my own 3CX hosting and Licence and just have SIP trunks from WebMate?
Sure, we have great rates on just SIP trunks (UK SIP). It's often much cheaper with us handling the whole thing for you though. Especially once you account for us managing the server for you, backups, snapshots, maintenance – and the convenience of monthly payments if you prefer.
Can I have full root access?
Yes, if you prefer to maintain and setup your VoIP VPS and 3CX yourself, we're happy to allow full root access to the server. We keep backups if anything goes wrong, and can do part maintenance if required, just let us know what works best for you.
Why should I choose you and not 3CX's hosting platform?
3CX do now provide a hosted service, available through partners like ourselves (and we're happy to provide this) – however, there are some limitations to the 3CX hosting provided directly by 3CX and our bundles tend to be better value (around 20% cheaper). There's no real difference in the platform used, 3CX use similar platforms to ourselves. We can provide this, but in most circumstances, our own hosting is better.
Can I do my own hosting or licencing?
Sure, we're happy if you already have a 3CX licence and want to use that – or if you host your server on premise or with another provider. There are options to select these on the order forms. If possible, we generally recommend the hosting and licencing is all kept under one roof if possible.
Can I use multiple SIP trunks from other providers?
Sure – if you have other SIP trunks, we can add those for you or you can add them in the admin control panel yourself. Sometimes, adding international SIP bundles and routes can be more cost-effective. All of our bundles require at least one of our SIP trunks though.
Do I get full admin access to 3CX
Yes, you'll have full administrator access to the 3CX PBX for you to make any changes yourself – or leave it all to us, we're happy to change things as required for you. If you prefer, you can lock us out of admin if you need to for security (bear in mind we'll not be able to help as much if things go wrong, just restore from backups or re-install).
I need something more customised, can WebMate help?
Yes, we can build custom 3CX systems, with backup PBX's for failover – or help with onsite installation. Contact us and we'll do our best to help.
Google Reviews – 5 STAR
Based on 85+ verified reviews (4.9 average)

Based on 145+ reviews, average score 4.8. View all Trustpilot reviews here.
I have been with WebMate since dial-up access days! Stayed with them mainly because of their excellent customer service – prompt, helpful, and knowledgeable. They even ring you back if their line is busy! What a relief not to have to deal with a far flung call centre or poorly informed staff reading from a script. Efficient service and staff very supportive, helpful and patient. Treated like a person as opposed to a number.
Great support as always from WebMate! I've used Webmate for about 8 years now and they are always superb at delivering, friendly, honest coherent support in a really timely manner! I don't hesitate to recommend them. Thank you Pete, Charlie, Lewis and all the team!
Excellent Service. Webmate have always been helpful and prompt in dealing with queries and problems but they surpassed themselves with a recent issue I had. At all times they replied very quickly, sometimes in only a few minutes, and were very patient in finding a solution that was not obvious and hence took several attempts to sort out. I can't see you getting this level of service from some of the larger ISPs.
Webmate have been my preferred ISP for sometime. Consistently excellent service and superb uptimes.
They recently prepared a website for me. A superb job for the price.I cannot recommend them too highly.

I have been with WebMate since 1998 and I cannot fault their excellent service and competitive rates for web-building and email hosting. No voice recognition frustration options when you call, but a familiar friendly voice to help you with any computer issues to hand.

Excellent service. The best Mac web provider out there. Any issues have been sorted extremely quickly and politely. Thank you. No holding on to phone lines for ever and ever. Quick response if even I've phoned. Tickets generated for problems sorted over night at the slowest.

WebMate Shines. Best outfit out there… Always available, friendly, and knowledgeable; go out of their way to resolve any issues, both email and/or web support issues. Can't say enough about these people.

A wonderful company – efficient, helpful and simply the best (my experience of 15 years impeccable service)

I had no Broadband, so I phoned WebMate and I got the usual guy's (based in Cornwall) to sort my problem within one day, I've been dealing with the same people for 20 years, that says everything! They got back to me to say that leave it with us, we're working on it, and sure enough, it was fixed shortly afterwards. I truly believe that WebMate is the best and most honest company that I have ever dealt with, they are exceptional. Thank you all very much again.

A company that will actually talk to it's customers. In a world where most companies seem to be set up to make it as hard as possible for you to talk to a real person, WebMate is a breath of fresh air. There are real, always helpful people just a phone call away. I have never for a moment regretted changing from the ever unhelpful BT. I don't write reviews normally but this company deserves a bit of my time for going out of its way to be helpful to its customers rather than keeping them at arms length. I would highly recommend them.
The best 3CX Hosting and Business VoIP service in the UK