Advanced cPanel-based hosting for ultimate control and management of single or multiple websites – perfect for resellers and designers or companies with multiple websites and cPanel management experience.

Our cPanel servers are cloud hosted for reliability and maximum uptime, well-managed and maintained up-to-date with upgrades and patches.
Built-In Automated Backups
Unlike some cPanel web hosts, we provide 30 days of backups included with every cPack hosting plan so you can restore yourself to snapshots. Backups are duplicated offsite too.

Our high powered servers enjoy the highest specifications SSD system and data disks as well as opcode caching as standard – keeping your websites as speedy and responsive as possible.

WHM and cPanel allow you full control of all aspects of your website – from databases to domains to PHP versions. Full control included.

Signup and website activation is included, as well as easy 50+ script installers to make getting your websites up and running as smooth and easy as possible.

Basic cPanel email is included as standard. We do recommend our WebMate Email service for business use as that is much more reliable and comes with advanced spam and virus control over the standard cPanel email system.

Our cPack servers are hosted on a cloud of the latest 24-core Xeon servers in one of ther most interconnected datacentres in the world – Telehouse London. With SSD system and data drives delivering speeds of over 1.4Gbps. A matrix of 4 independent Cisco switch-stacks then connect the servers to our multi-honed internet backbone. We manage our servers and network ourselves, therefore ensuring they are reliable, up-to-date and as fast as possible – there's no mass-over-hosting in a remote country on our cPanel hosting!

Well maintained, proactively monitored around the clock and expert virtualisation is the key to our cPack hosting reliability. Industry-leading 99.9% uptime guaranteed. System snapshots and 12 weeks of site backups – iniaddition to standard 30 days backups – further add to the peace of mind that your cPanel sites are secure with us. SSD data disks are also duplicated to ensure data avialability in case of a failure.
Powerful and Fully Customisable cpanel hosting

If you want full control of your website, its mail, databases and FTP users – plus virtually everything else you could possibly want – cPack with cPanel is the ultimate choice for customisability. Customise everything you need to and setup your own packages and client interfaces if required..

Included with every cPack is Softaculous. It's an invaluable tool allowing single-click installation of no less than 396 modules, scripts and plugins – from Magento to mail forms. It's the ultimate add-on to add every level of functionality to your sites. And it's included free of charge!

SSD and Raid on all cpanel plans
All cPack servers feature the latest SSD and RAID technology – at no extra cost. SSD's are deployed as system and virtualiser disks on all systems – speeding things up by up to 8 times. For the data – your web files and images – we use 10G-connected RAID systems with mSata SSD caching technology (like Fusion drives) to make the reads fly at up to 1.4Gbps. What this means is much faster sites and much faster cPanel.
30 Day Backups Included on all cpanel hosting plans

The more backups the better as far as we're concerned: Automatic full backups of your site, every day for a whole month – so you can roll-back to any day you like. What's more, we backup to no less than 3 locations to ensure ultimate backup reliability. We also sync to redundant data disks – just to be sure we can recover a server and your sites as fast as possible in the event of a storage system failure, in 5 minutes to be exact.
cPack – our super-charged cPanel hosting
cPack combines the versatility and control of cPanel with our unrivalled network and hosting platform to offer fast and reliable cPanel hosting.
There are no "extras" with cPack – it's premium cPanel hosting through and through. All packages come with 4 weeks of full backups, with self restore facility, SSD-based RAID storage, MultiPHP manager (v5-v7), and with un-restricted multi-Gbps bandwidth on our primary network based in Telehouse London – as well as with full access to softacilous one-click module installs out of the box. Fully customisable and suitable for multiple websites.
Number of Sites
2
Disk Space
10GB
Email Accounts
10
MYSQL Databases
2 x 1GB
PHP Version Select
Yes (v5.4-v7.3)
Scripts
500+
Backups Included
30 days + 12 weeks
Number of Sites
10
Disk Space
100GB
Email Accounts
100
MYSQL Databases
10 x 1GB
PHP Version Select
Yes (v5.4-v7.3)
Scripts
500+
Backups Included
30 days + 12 weeks
Number of Sites
Unlimited
Disk Space
Unlimited
Email Accounts
Unlimited
MYSQL Databases
Unlimited
PHP Version Select
Yes (v5.4-v7.3)
Scripts
500+
Backups Included
30 days + 12 weeks
cPack – our super-charged cPanel hosting
cPack combines the versatility and control of cPanel with our unrivalled network and hosting platform to offer fast and reliable cPanel hosting.
Full cPanel Hosting Feature List
Ability to Change MX
Addon Domain Manager
Advanced DNS Zone Editor
Advanced Guestbook
Agora Shopping Cart
Analog Stats
Apache Handlers Manager
Apache SpamAssassin™
Apache SpamAssassin
Spam Box
API Shell (for developers)
Autoresponder Manager
Awstats Stats
Backup Manager
Backup Wizard
Bandwidth Stats
BoxTrapper Spam Trap
CGI Center
Change Language
Change Style
Chat Rooms
Choose Log Programs
Counter
Crontab
CSV Import (Email & Forwarders)
Custom Error Pages
Default Address Manager
Directory Selection Popup
Disk Usage Viewer
Email Account Manager
Email Archiving
Email Authentication
Email Delivery Route
Email Domain Forwarding
Email Filtering Manager
Email Greylisting
Email Scripts (cgimail,formmail)
Email Trace
Entropy Banner
Entropy Search
Warning: Error Log
File Manager
Forwarder Manager
FTP Account Manager
FTP Settings
Hotlink Protection
Image Manager
Index Manager
Install Perl Modules
Install PHP Pear Modules
Install Ruby Modules
IP Deny Manager
Java Clock
Java Countdown
Latest Visitors
Leech Protect (requires Webprotect)
Mailman List Manager
Mime Types Manager
ModSecurity™ Domain Manager
Multi PHP (5.4, 5.6, 5.9 and NEW v7)
MySQL
Network Tools
Optimize Website
Parked Domain Manager
Password Change
PGP/GPG
PHPBB2
PhpMyAdmin
PhpPgAdmin
PostgreSQL
Random HTML Generator
Raw Access Logs
Redirect Manager
Remote Calendars and Address Books
Ruby on Rails
Search Engine Submit Tool
See PHP Configuration
Server Status Viewer
Simple CGI Wrapper
Simple DNS Zone Editor
Simple Guestbook
Site Publisher
Site Software
SSH Connection Window
SSL Host Installer
SSL Manager
Subdomain Manager
Subdomain Stats
Support System Submission
Theme Switching
Two-Factor Authentication (Google Authenticator)
Video Tutorials
Virus Scanner
Web Disk
Webalizer Stats
Webmail
Webprotect
WordPress (cPanel)
Committed to a better service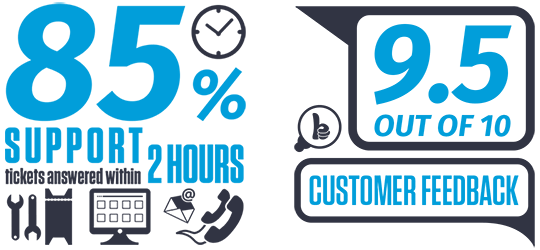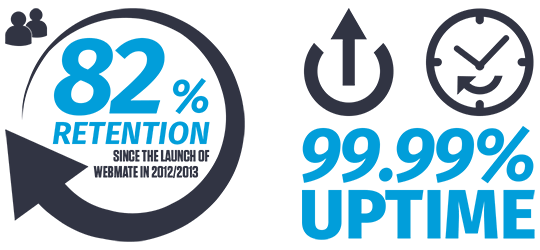 Committed to a better service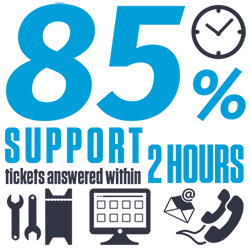 During 2018, 85% or more tickets were answered within 2 hours in each quarter, with the highest figure being 88.9%.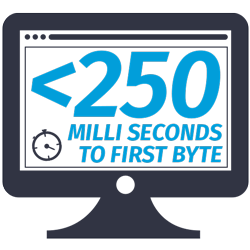 Google will give your site top marks for sub 250ms.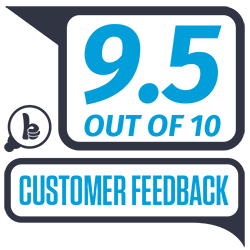 During 2018, our customers rated our ticket responses at least 9.5 out of 10 in each quarter, with the highest being 9.67.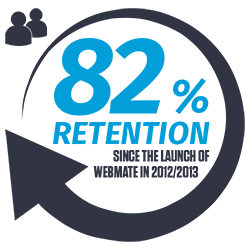 8 in every 10 of our customers have been with us for over 6 years – 25% more than 12 years!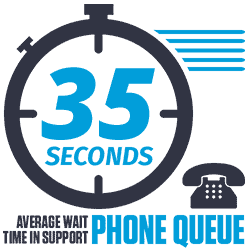 Between Jan 1st and March 25th 2019, the average wait time in our technical support queue was just 35 seconds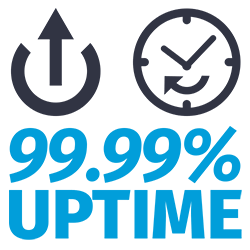 We strive for maximum uptime with all of our internet services. Our Web Hosting and Email Hosting has >99.99% uptime per month minimum, with 100% uptime targets.