Fixed price Web Design

The quick and easy way to get a website built
Introducing the breakthrough new way to get a professional, modern website designed and built for you from just £99. No catches, no commitments, no contracts.
Perfect for new projects, start-ups, small businesses or hobby site refresh. Simply send us your logo and content (or previous site) as a guide, and we'll design and build a great looking website for you – within 72 hours if necessary – all for a fixed price of just £99. We then make changes for your when you need them, or you can login and do it yourself with our easy-to-use web builder. It's the cheapest way to get a great website online quickly.

web design from just £99 – plus £49 per year hosting

What is Jumpstart web design service?
If you need a refresh of your existing website, or are starting from scratch, why not take the initial hassle of getting your website built and let one of our team of expert web designers build it for you – using your old site or your text and images as a starting point. Once we've built your new website – normally within 3 days – you can edit or make additions using the super-easy WebMate Website Builder (or we can do those for you too). Best of all, having a great new website doesn't have to be expensive – the most popular package is just £99 then £4.08 /mo or £49 per year – with no contract commitment. It's the best value, low cost web design service available!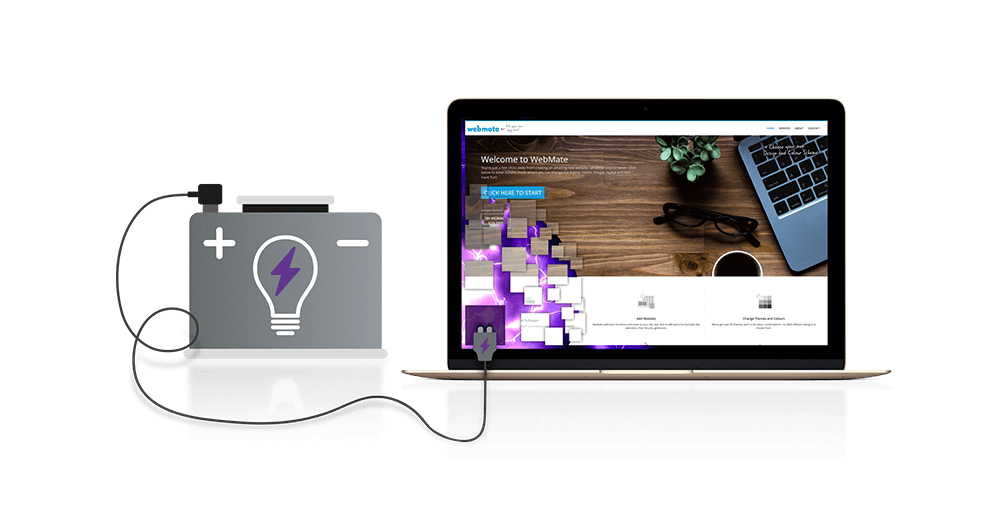 The easiest way to get a website built for your business, fast!

An inexpensive way to get your initial website up and running – without cutting corners so your new low cost website will look professional and well designed.

We can produce your website design and have it live and online for you to start getting customers within 3 days. If you need it quicker, let us know…

Save yourself hundreds, if not thousands. No hidden extras, just a one-off cost of £99 / £149 and then hosting from £4.08, / $5.75 per month, no lengthy contracts or tie-ins.

Perfect for an overhaul of an old looking site – the service and price is the same. A great way to make your new site responsive for mobiles and tablets and a platform to build on for years to come.
You'll be quickly assigned a dedicated web designer to work with you to build your very own, professional, low cost website – using your logo and colour scheme.

A new domain name is included on annual hosting plans.
LOW COST WEBSITE DESIGN
and 1 YEAR HOSTING FOR JUST £148 all in, then £49 per year hosting.

Here's how it works: You give us an existing site to copy the content from (or text/leaflets etc) and we go to work and turn that into a site that matches your brand, colours, style and target market. We include all the bells and whistles you expect on a modern website like contact forms, maps, social media links and high quality photos. You then either point your existing domain to this new site, or buy a new domain to use. If you need more pages we can add those for you too, or we can help you use our online web builder to edit and add your own easily. Sign up to a monthly or annual WebMate plan to handle the hosting and ongoing support – which includes email at your domain too.
Recent Jumpstart low cost website design examples
Here's a few typical websites we've designed and built for some very happy customers.
You too could have a website designed and built for you like these for just £99.

plus £4.08 per month or £49 per year for hosting
(based on annual WebMate Lite Hosting – other options available)
plus £4.08 per month or £49 per year for hosting
(based on annual WebMate Lite Hosting – other options available)
then choose your hosting package from £4.08 / $5.75 per month
with eCommerce and up to 10 products added for you
(you can add as many as you like)
All prices exclude VAT in the EU at 20%. US and rest of world, prices inclusive of all applicable taxes. Annual Plan pricing payable in advance and shown as monthly equivalent. There is no long term commitment beyond your monthly or annual plan selection. Please note that the sites are designed and build on our Web Builder platform and are not transferable to another host. Find out more about this on our TERMS page
plus £4.08 / $5.75 per month for hosting
plus £4.08 / $5.75 per month for hosting
All prices exclude VAT in the EU at 20%. US and rest of world, prices inclusive of all applicable taxes. Annual Plan pricing payable in advance and shown as monthly equivalent. There is no long term commitment beyond your monthly or annual plan selection. Please note that the sites are designed and build on our Web Builder platform and are not transferable to another host. Find out more about this on our TERMS page
FAQs – all you need to know about our low cost website design
Can I use Jumpstart to redesign my existing site?
Yes, it's the most popular way for customers to use Jumpstart. Let us know your old site and we'll replicate the content into a brand new, modern responsive site. If there are more pages, we can either do the first 5/8 as a starting point for you to continue or quote you to do all of the pages (tends to works out about the same sort of cost for another 5 or 8 pages).
Am I tied into a contract?
Not at all. You can choose to pay the initial upfront cost for the design work, then whatever term suits you for the design – either month to month or Annually to save up to 33%. Beware of some "web design" services that tempt you in with a low price and then tie you into an expensive and lengthy contract to recoup their money. We can provide the design service very reasonably priced because we build it using a web builder we built and designed ourselves- so we're pretty experienced with using it!
Can I edit the site myself or move it to another hosting provider?
Yes, you can edit the new website we create for you yourself, add pages, add content without limits really – Jumpstart is just to get you started really (although many sites we create we also continue to manage and add pages too). WebMate Web Builder is really easy to use and perfect for adding content such as news or blogs, updating prices etc. But the site is built on a proprietary platform and cannot be hosted elsewhere – just like sites built with other web builders cannot be moved as they are tied into a custom framework. If you do need a site that's transportable between ISP's you'll need to look at using something like WordPress – we can help with this too, just get in touch and we'll let you know your options and some ideas on price.
What information do you need for a brand new site?
For a brand new site for a new business startup, project or venture – we'll need a logo, your colour scheme and what content you'd like on there. We can't write the text for you but our web designers will try to advise on what sort of thing works well and will adjust titles and text in order to help your new site get a better search engine ranking where necessary. So ideally we'd want an email with each page broken down into what you'd like in there – titles, text, pictures, bullet points etc – together with a logo and perhaps copies of any stationery or leaflets you have for us to work to. Don't worry, we know how daunting prepping the content for your first site can be. You'll be assigned a web expert to take your brief, help you get the content together and then build your site for you – guiding you through the whole process and what we need to make your site the best it can be.
Are there any limitations?
Yes, we're limited by what the Web Builder can do – but it's very flexible and has thousands of layout options available on a grid-like system – similar to how most web builders work. The reason they are easy to use is that there's a structure to how they build sites and a series of colours, themes and layout templates that cannot be modified – but when combined together can form some pretty remarkable results. So whilst we'll try our best to be accommodating, we might not be able to move the logo a few pixels to the left or match a theme – for fully customised websites you'll need it hand coded and that will cost you thousands. We can advise on future stages for your website too, the idea of Jumpstart and Web Builder is to get you going – and for most people, the final result is just what they need.
What if I don't like the design?
We do aim to ensure every site is unique and that it fits in with the clients branding and target market as best we can – sometimes producing sites that look like you've spent thousands. But we always have a no-quibble money-back guarantee on everything we do (except domain registrations) – so if you're not happy for any reason, we'll give you your money back. Of course, we'll do our very best to ensure that doesn't happen and always action any feedback or changes the customer wants with their initial design. Sometimes just changing some images and the colours and re-jigging the layout again can make all the difference, or passing the design over to another designer to get a different design.
Google Reviews – 5 STAR
Based on 85+ verified reviews (4.9 average)

Based on 145+ reviews, average score 4.8. View all Trustpilot reviews here.
I have been with WebMate since dial-up access days! Stayed with them mainly because of their excellent customer service – prompt, helpful, and knowledgeable. They even ring you back if their line is busy! What a relief not to have to deal with a far flung call centre or poorly informed staff reading from a script. Efficient service and staff very supportive, helpful and patient. Treated like a person as opposed to a number.
Great support as always from WebMate! I've used Webmate for about 8 years now and they are always superb at delivering, friendly, honest coherent support in a really timely manner! I don't hesitate to recommend them. Thank you Pete, Charlie, Lewis and all the team!
Excellent Service. Webmate have always been helpful and prompt in dealing with queries and problems but they surpassed themselves with a recent issue I had. At all times they replied very quickly, sometimes in only a few minutes, and were very patient in finding a solution that was not obvious and hence took several attempts to sort out. I can't see you getting this level of service from some of the larger ISPs.
Webmate have been my preferred ISP for sometime. Consistently excellent service and superb uptimes.
They recently prepared a website for me. A superb job for the price.I cannot recommend them too highly.

I have been with WebMate since 1998 and I cannot fault their excellent service and competitive rates for web-building and email hosting. No voice recognition frustration options when you call, but a familiar friendly voice to help you with any computer issues to hand.

Excellent service. The best Mac web provider out there. Any issues have been sorted extremely quickly and politely. Thank you. No holding on to phone lines for ever and ever. Quick response if even I've phoned. Tickets generated for problems sorted over night at the slowest.

WebMate Shines. Best outfit out there… Always available, friendly, and knowledgeable; go out of their way to resolve any issues, both email and/or web support issues. Can't say enough about these people.

A wonderful company – efficient, helpful and simply the best (my experience of 15 years impeccable service)

I had no Broadband, so I phoned WebMate and I got the usual guy's (based in Cornwall) to sort my problem within one day, I've been dealing with the same people for 20 years, that says everything! They got back to me to say that leave it with us, we're working on it, and sure enough, it was fixed shortly afterwards. I truly believe that WebMate is the best and most honest company that I have ever dealt with, they are exceptional. Thank you all very much again.

A company that will actually talk to it's customers. In a world where most companies seem to be set up to make it as hard as possible for you to talk to a real person, WebMate is a breath of fresh air. There are real, always helpful people just a phone call away. I have never for a moment regretted changing from the ever unhelpful BT. I don't write reviews normally but this company deserves a bit of my time for going out of its way to be helpful to its customers rather than keeping them at arms length. I would highly recommend them.
The best UK low cost web design service