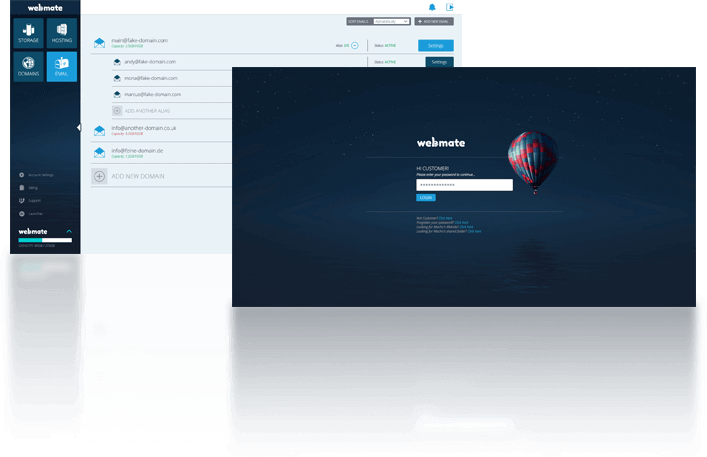 We're pleased to announce the introduction of our brand new WebMate control – the one place you can easily manage your websites, domains, cloud storage and email. We've made it quicker and easier than ever to perform all the management for your online world. It's fully responsive so works on all platforms and screen size – including mobile and tablet.
When you log in you'll see the ultra-modern layout which has four key area button on the left (or top on mobile): Cloud Storage, Websites, Domains and Email – and within each one an overview of all of your services. The hosting panel has a new card-based system for each of your sites which you can preview, edit the settings or go straight to the admin interface for the site (web builder and WordPress). The Cloud Storage is faster and cleaner with true drag-and-drop upload capability now. Emails are easier than ever to provision instantly – as well as sort in whichever way you prefer. Domains are split into ones managed within WebMate and ones managed externally and can also be sorted – especially useful for those with lots of domains.
There's a new Notification icon in the top right to keep track of any filesharing or upload errors, as well as notify you of any expiring domains or other issues you need to act upon.
We hope you like it, we'll be adding lots of new functionality in the coming months. Please keep your ideas, suggestions and wish lists flowing in via our contact page and email.