Compare WebMate Web Hosting Plans to find the best for you
Here are the full specifications of our powerful WebMate hosting plans – starting from just £1 for your first month. If you need further advice, or custom hosting solutions, please get in touch and we'll be able to advise the best options for you. Click for more details of our WebMate Pro Hosting
Great value hosting suitable for Web Builder and static  HTML/PHP sites which do not require a database (like iWeb, Rapidweaver, Sandvox)
Premium hosting on our award-winning Quadra platform for ultimate speed and reliability with Clustered Databases and 90 day backups. Perfect for sites built with CMS systems like WordPress.
Approx visitors per month
Memcache and Opcode support
PHP 5.6 – 7.3
(fully customisable)
Malware and Virus Protection

ONLY *.webmate.me
(no extra cost and automatic)
YES
(*.webmate.me no extra cost and automatic)
30 days – automatic weekly
(4 full backups)
90 days – weekly and daily
(4 full weekly and daily incremental snapshots)
Offsite duplication of backups
Standalone Emergency Backup platform
Yes
4 hour recovery from backups
Yes – auto-failover
(to "last nights" full backup of files and SQL)
*see below for full list of scripts available
when billed annually (£49/yr)
or £4.90 month to month.
when billed annually (£69/yr)
or £6.90 month to month.
Upgrading between our hosting plans can be done within your control panel with one click (or by ticket/email).
All hosting plans come with our trusted 30-day money-back guarantee and £1 for the first month

Unsure which package is best for you? Got any further questions?
Get in touch, one of our technical or solutions experts will be happy to help and advise.
72 One-click scripts and web programs available to install
(only on WebMate Pro and WebMate Pro with Qfast Turbo Boost)
Advanced Guestbook
Advanced Poll
Autoload
b2evolution
bbPress
Bugzilla
CMS Made Simple
Coppermine
Django
DokuWiki
Dolibarr
dotProject
Drupal
eGroupWare
eXtplorer
Feng Office
Flyspray
Foswiki
Gallery
Ghost
Horde
Horde Webmail
IMP
Instiki
Joomla
LimeSurvey
Magento
Mantis
MediaWiki
MoinMoin
Moodle
Movable Type
Node.js
Nucleus
OpenCart
osCommerce
osTicket
ownCloud
PHP-Calendar
PHP-Nuke
Php-Wiki
phpBB
PHPList
phpMyAdmin
phpMyFAQ
phpPgAdmin
phpScheduleIt
Piwik
Plans
Pydio
Radiant CMS
Revive Adserver
RoundCube
Ruby on Rails
Simple Invoices
Simple Machines Forum
SquirrelMail
SugarCRM
Textpattern
TikiWiki
Trac
TWiki
Typo3 CMS
Vtiger CRM
WebCalendar
WHMCS
WordPress
X2Engine
Z-push
ZenCart
Zenphoto
Zikula
Committed to a better service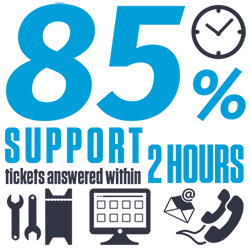 During 2018, 85% or more tickets were answered within 2 hours in each quarter, with the highest figure being 88.9%.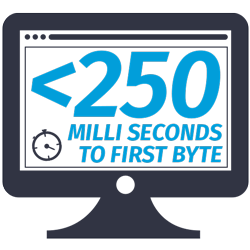 Google will give your site top marks for sub 250ms.
During 2018, our customers rated our ticket responses at least 9.5 out of 10 in each quarter, with the highest being 9.67.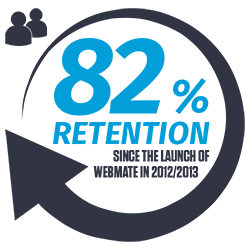 8 in every 10 of our customers have been with us for over 6 years – 25% more than 12 years!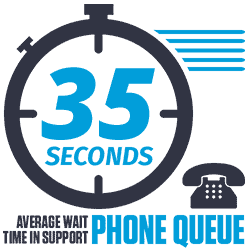 During 2018, the average wait time in our technical support queue was just 56 seconds and less than 0.1% of calls queuing for more than 6 minutes.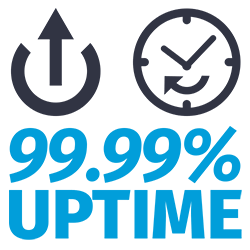 We strive for maximum uptime with all of our internet services. Our Web Hosting and Email Hosting has >99.99% uptime per month minimum, with 100% uptime targets.
Committed to a better service