Better ADSL & Fibre broadband
  Mac and PC friendly
  Fastest connection possible
  Free WiFi Modem
  Award winning UK-based tech support
  Ultra-reliable business-grade connections
  Low contention
Better ADSL & Fibre broadband
  Mac and PC friendly
  Fastest connection possible
  Free WiFi Modem
  Award winning UK-based tech support
  Ultra-reliable business-grade connections
  Low contention
premium ADSL & FIBRE BROADBAND BUNDLES
Not all broadband is the same: our ADSL and Fibre Broadband is a premium service engineered and managed to be faster, more reliable and less stressful than the major broadband providers. Testament to this is our Excellent 5-star rating by our customers on Trustpilot and customers that have been with us for over 20 years thanks to our award-winning service. We're so confident, we'll give you your money back if we don't provide the best broadband you've ever had…
---
£32.99/mo
Including Line Rental
---
£43.99/mo
Including Line Rental
---
from £46.99/mo
Including Line Rental
Unlimited Bandwidth

30 Day Contract

Free WiFi Router

No Limits or Restrictions

UK Mac & PC Support

Free Static IP
Unlimited Bandwidth

30 Day Contract

Free VDSL WiFi Router

No Limits or Restrictions

UK Mac & PC Support

Free Static IP
Unlimited Bandwidth

30 Day Contract

Free VDSL WiFi Router

No Limits or Restrictions

UK Mac & PC Support

Free Static IP
Non-Bundle Pricing
£25.00 /mo
(Price when you have BT-based line with another provider)
Non-Bundle Pricing
£35.00 /mo
(Price when you have BT-based line with another provider)
Non-Bundle Pricing
£40.00 /mo
(Price when you have BT-based line with another provider)
Premium ADSL & Fibre Broadband
Not all broadband is the same: our ADSL and Fibre Broadband is a premium service engineered and managed to be faster, more reliable and less stressful than the major broadband providers. Testament to this is our Excellent 5-star rating by our customers on Trustpilot and customers that have been with us for over 20 years thanks to our award-winning service. We're so confident, we'll give you your money back if we don't provide the best broadband you've ever had…

Our broadband is business-grade throughout – which means you get better priority right from the exchange to our support engineers – suitable for both home and business
We provide a quality 300Mbps Wifi router with every connection, pre-configured and ready to plug in and go – no fiddling with settings or worrying about security
You'll be cared for by our dedicated and award-winning UK-based technical support team. Calls answered in less than 1 minute, usually first time and we have low fix targets for emails and tickets
We engineer our entire broadband infrastructure to provide the fastest speeds your line can handle – often higher than other ISP's can. We even offer a money back guarantee if we don't stack up to our promises!
No Limits or Restrictions
With UNLIMITED downloads as standard and an internet connection that's not restricted or throttled at all. It's business-grade from the outset and contention is much lower than the cheaper mainstream providers
30 day rolling contracts so you can trust that we won't tie you to long contracts and are always striving to meet your very highest expectations month after month
Committed to a better service
During 2018, 85% or more tickets were answered within 2 hours in each quarter, with the highest figure being 88.9%.
Google will give your site top marks for sub 250ms.
During 2018, our customers rated our ticket responses at least 9.5 out of 10 in each quarter, with the highest being 9.67.
8 in every 10 of our customers have been with us for over 6 years – 25% more than 12 years!
Between Jan 1st and March 25th 2019, the average wait time in our technical support queue was just 35 seconds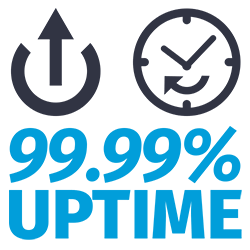 We strive for maximum uptime with all of our internet services. Our Web Hosting and Email Hosting has >99.99% uptime per month minimum, with 100% uptime targets.
Committed to a better service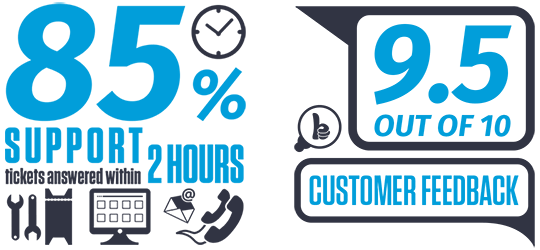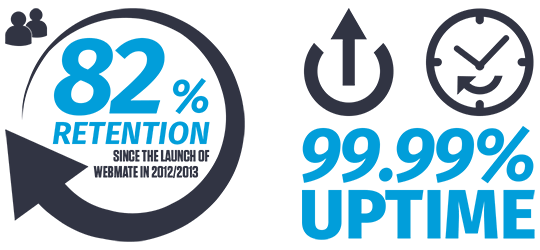 Are there any additional setup costs?
There's a one-off setup cost of £30 and £6 carriage for the new router we supply.
How does your money-back guarantee work?
We have two principles here. New customers can try us for 1 month with a full money-back guarantee if you're not entirely satisfied as part of our commitment to ensuring that you will be! Secondly we don't think it's fair to pay for broadband that's not working to your full satisfaction at any time during your connection with us – so we'll refund every day your internet isn't working. In all honesty, failures outside of your or our control will happen at some point – it might be once in a year or once in five – if you're really lucky your line will hold up with no issues much beyond, but it is unlikely (there's always someone digging up roads, or cables being cut somewhere). But, when this does happen, we'll work our very hardest to get it resolved for you as quickly as possible and, importantly for us, we won't charge you whilst it's down – guaranteed.
How would I cancel if I'm not happy?
Firstly, we'll do everything we can to ensure you are happy and will try to be fair and honest – as well as talk in plain English rather than tech speak. We'll never hold you to something you're not comfortable with and if you do decide to cancel, for any reasons, we'll help in every way we can. If we cannot resolve any issues to your complete satisfaction, talk to us and we'll ensure you're not out of pocket or inconvenienced more than you need to be. We're sure you'll be more than happy though, it's the very core of our mission to you.
Is there a fixed contract term?
No, we operate 30 day rolling contracts on all of our broadband contracts. However, if you do decide to cancel or migrate away within 12 month, we will charge a £69 router fee to cover the cost of the router we supply free. If you take a new telephone line with us, which we install for free, this has a 12 month minimum contract. Line rental migrations (where no new line is installed) are the same 30 day rolling contracts.
Is your Performa Fibre (FTTC) full fibre?
No, FTTC stands for "Fibre to the Cabinet" which means that the cable from the street cabinet to your house is still copper. The "Fibre" part is the longer part of the connection, which goes from the street cabinet to the local exchange and beyond – hence being much higher speeds than standard ADSL
What does "up to" mean in terms of the speeds you advertise?
This is the maximum headline speed that the product is based on, not the actual speed you'll get. Realistically you'll never actually get these speeds because of overheads and processing time etc – generally the best you'll get is about 90% of the speeds advertised. The actual speeds you get depend on a number of factors – mainly the length and quality of the copper part of your line. Typically if you're within 200m of your cabinet, FTTC connection will achieve at least 75% of the advertised speeds off peak and at least about 50% at peak times. It's not that we limit this, we do everything we can to get you the highest speeds your line can handle and do have some settings we can make to increase the speeds (sometimes at the cost of reliability, sometimes without any loss of reliability). It's a complex process that we appreciate can be quite confusing. When you order broadband from us, we can get an idea of the actual maximum speeds you'll receive based on data we get from the phone providers and data from neighbour's actual broadband, so our estimates are pretty accurate. Peak and Off-Peak also have an effect – much less with us than ISP's that are much cheaper. Essentially, if everyone on your street or in your town is using broadband heavily then the infrastructure has more work to do and potentially less bandwidth to share out – so speeds are reduced (typically between 3.30pm and 10pm). We manage our network well to minimise this as much as possible – certainly the parts of the connection that is our network suffers no congestion issues at all.
What is the FREE router you supply?
We test and select only premium WiFi routers and not the cheap (often ISP-branded) ones others might supply. So our standard router is a 300Mbps dual-band TP-Link ADSL or VDSL Wifi router that we found is very reliable and provides some of the best broadband speeds, WiFi speeds and range. You can upgrade the router if required though at a significantly reduced price (available at checkout).
Will there be any downtime if I migrate from another ISP?
Not much. We manage the migration process very carefully to ensure the actual line gets switched over without any interruption to your actual broadband connection and pre-configure and send a new router that's ready to plug in and go on the switch-over day – so the only downtime is swapping the router (or changing the settings on your existing router if you prefer to keep your own)
Free line installation: New installs are free if you stay with us for 12 months, otherwise there is a £150 plus VAT fee.
Free modem and installation:  Applies to all broadband orders and with no contract, just 30 days notice of termination. Billing periods run from 1st to the 1st of each month, no part-month-refunds, 1 full month notice required should you decide to migrate or cease (ceasing incurs a £32 fee).
Broadband Speeds for ADSL: There are multiple factors that affect your maximum speed including whether your exchange is enabled for 21CN / ADSL 2+, the distance of your line from the exchange, the age and quality of the copper cable to the exchange, the connections in between and any interference along the way.  Our speed estimator bases its results on the distance and speeds recorded from your neighbours and is an indication only. The maximum speed your line can handle is your "sync speed" and not necessarily the speed you'll get all the time. See our Peak and Off-Peak estimates for indications of real-world speeds when congestion and overheads are taken into account. We always deliver the fastest speeds your line can handle.
Broadband Speeds for Fibre Broadband: Fibre / FTTC is different to ADSL in that the only copper part of the cable is from the street cabinet to your property. From the street cabinet to the exchange is Fibre which does not suffer the same speed loss over distance as copper. Therefore the maximum sync speed of your fibre connection is mainly affected by the copper from your house to your exchange (10-250m will generally give full fibre speeds, 500m will give 50-75%).
Migrating and Cease Fees: Migrations to us are free and we do not make a charge for migrating away. As our broadband network is our own LLU, some providers may charge to move to their LLU network or back to BT's (phone lines remain with BT so there are no changes/charges moving to another BT-based provider). Ceasing a connection completely does incur a £32 cease fee (this is passed on directly from Openreach and is their charge for physically disconnecting the broadband service at the exchange).
Unlimited Calls:  Include calls to UK landlines only that start with 01, 02, 03 or 08 and for calls under 60 mins only. Calls over 60mins are charged at our standard rates (which are generally cheaper than most providers including BT)
20CN exchanges: If your exchange is not upgraded to support 21 CN you will only be able to get a maximum of 8Mbps down and 800kbps up, and there will be a £5 inc VAT surcharge to the above prices (sorry – it's three times more expensive for us to provide service to these lines). Additionally, 20CN lines will have a 20GB cap per month. Please contact us for pricing on higher or unlimited caps on these lines.
Timescales: Migrations and new activation on existing lines normally take 7 days. Where a new telephone installation is required this normally takes 14 days (but for new-builds or where engineering works will be required it can take up to 90 days)
Any other questions please feel free to call or email us. All prices include VAT unless otherwise stated.